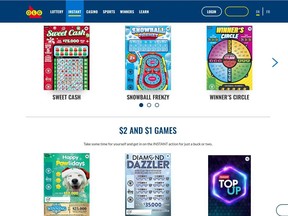 Article content
Ontarians may have been buying scratch lottery tickets while unaware that the big money had already been doled out, Auditor General Bonnie Lysyk's annual report has revealed.
Article content
The Ontario Lottery and Gaming Corporation (OLG) made net sales of $6.4 billion in scratch lottery tickets between April 2018 and June 2222, selling 88% of all tickets printed, the report says.
Article content
"We noted that OLG is not ensuring that Ontarians are aware of whether any top instant scratch ticket prizes are still available at the time of purchase of open packets of scratch tickets (a pack includes around 10 scratch tickets)," the annual report released last week says.
"Previous consumer research conducted by OLG showed that a prize amount of $100,000 or greater was considered by the public to be a life-changing amount, and that consumers were less likely to purchase instant scratch tickets once all top prizes had been claimed."
Article content
OLG countered scratch lottery tickets are removed promptly from market when a top prize of $100,000 or more is claimed but not necessarily instant games with smaller prizes.
OLG says it can confirm that the agency sends instructions directly to each lottery retailer to retire a game once the big prizes are paid out.
"INSTANT games with prizes under $100,000 may continue to sell through for a period of time, with full disclosure to customers on the remaining top prizes available," OLG said.
The information on whether the prizes are still attainable can be found on the OLG website or by contacting a live agent or through chat email.
OLG says information on remaining prizes is also available on demand from lottery retailers and can be posted, although that is not a requirement.
Article content
Recommended video
"OLG's INSTANT ticket practices are consistent with other lottery jurisdictions in Canada," the OLG statement says. "OLG is committed to openness and transparency in the sale of its products and encourages customers to contact us should they have any questions or concerns."
Lysyk's auditors also noted that the people who sell lottery tickets continue to win "significant" prizes.
The OLG was rocked by an "insider win" scandal, culminating in a 2007 Ontario Ombudsman report that found lottery ticket retailers had been claiming major prizes on a regular basis.
The gambling agency refuses to allow its own staff, directors, consultants and oversight and enforcement employees to play or win lottery games in Ontario, and now also bars OLG retail owners and their workers who handle ticket sales from playing at their own location.
Article content
However, lottery ticket retailers can play at other locations or through the OLG website.
The auditors found that 202 employees who sell lottery products won prizes of $10,000 or more, for a total of $19.2 million, between April 2017 and December 2021.
"Over this period, lottery retailers accounted for 1% of the eligible Ontario population but claimed 1.4% of the lottery wins over $1,000," the auditor's report says. "This means that lottery retailers who sell lottery tickets won at a 40% greater rate than when compared to the general eligible population of 18 years or above."
OLG says its "No Play at Work" policy for lottery retailers is actively monitored and enforced.
"To clarify, the Auditor General's finding was based one-time data from 2019 which showed a 0.4% variance between the rate of lottery wins in the general adult population versus insiders," the statement says. "There is no evidence this one-time uptick in wins is related to problematic activity. The nature of the lottery business which is based on randomness can result in year over year fluctuations in the total dollar value of prizes paid to insiders, and frequency of play can be another more obvious contributor."